The Original Hydrafacial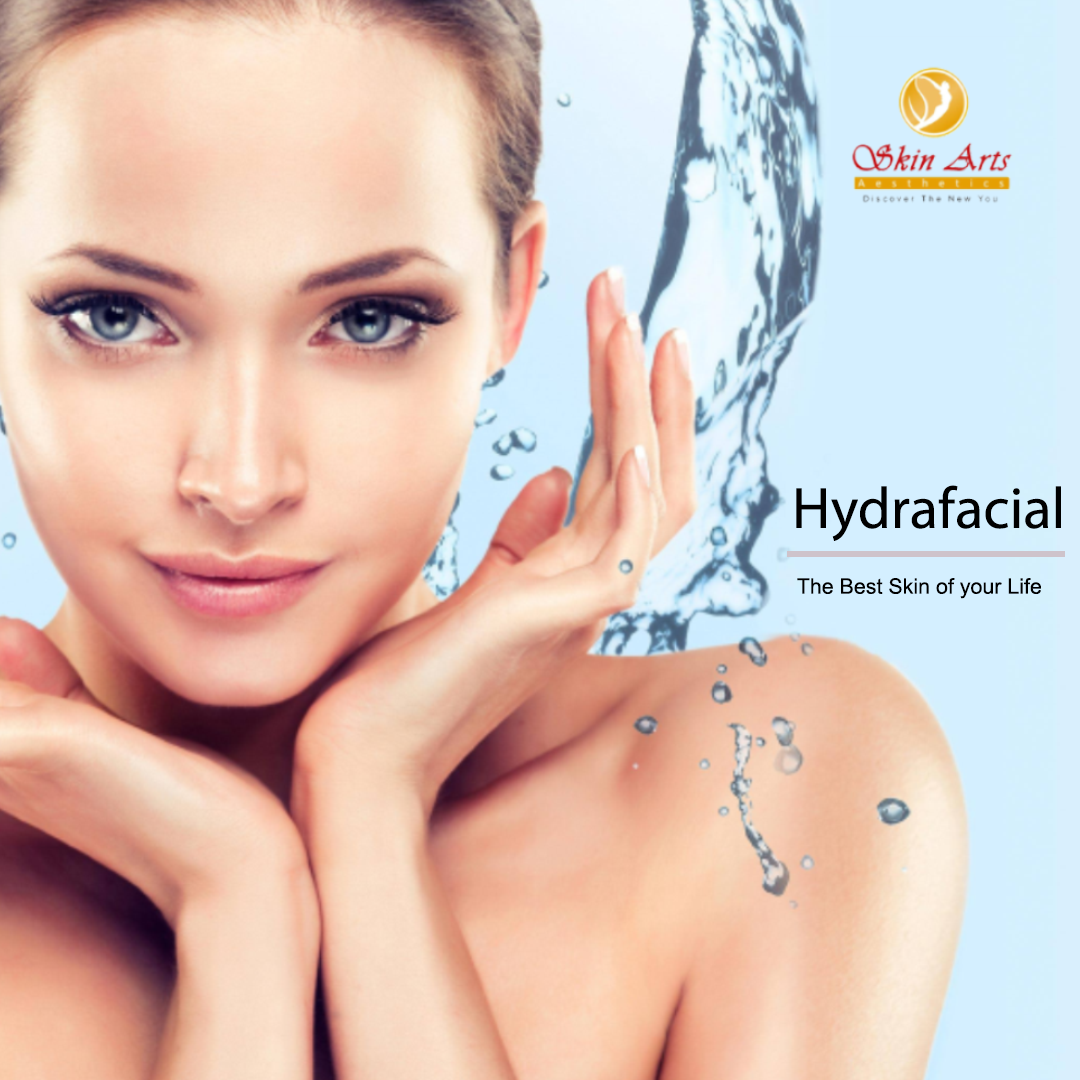 3 Steps to Hydrafacial
Step 1: A physical and chemical peel is used to exfoliate and cleanse.
Step 2:  Using a painless suction which removes dirt and debris from pores while hydrating the skin with powerful moisturizers.
Step 3: Restore the skin's natural moisture and suppleness with Fuse + Protect, while detoxifying and protecting it from environmental free radicals.
What is Hydrafacial
A HydraFacial is a skin treatment provided by skinarts aesthetics. HydraFacial is a no-downtime, non-invasive procedure suitable for people of all skin types. The procedure takes around 30 mins. During the 30-minute Hydra Facial process, dead skin cells are removed and pollutants are extracted as the skin is simultaneously cleansed and hydrated. Hydrating serums, peptides, and hyaluronic acid are added as the last stage before the process is completed. After the treatment, you'll notice an instant improvement in your skin's appearance. HydraFacial is a minimally invasive procedure that may be used on any skin type without the risk of side effects. Exfoliation, cleaning, extractions, and miniaturization are all delivered through the HydraFacial's. This system hydrates your skin while removing dead skin and other pollutants, as well as calming your skin. A HydraFacial is a combination of four facial treatments: cleaning and exfoliation, a mild chemical peel, vacuum suction extraction, and a moisturizing serum. The HydraFacial is constant and can be utilized on all types of skin.. As well as helping to reduce the appearance of fine lines and wrinkles and cure acne and thinning skin, HydraFacials also assist to generate collagen and relax the muscles of the face.
About The Device
The device we are using is Hydrafacial Elite. If your skin is more prone to acne or is greasy, HydraFacial Elite will help you. The device has the ability to clear clogged pores and eliminate surface contaminants. As a result of the serums used, pores are minimized and blockage is reduced. Dermatological issues such as fine lines, sagging skin, uneven skin tone, UV damage and pigmentation are all addressed with HydraFacial Elite. It also treats clogged pores and acne. It's a great way to prep your skin as it makes your skin looking bright, plump, dewy, and glowing. Aside from delivering immediate benefits like fewer breakouts, this therapy is a rejuvenation process that has long-term effects for your youthful appearance.
How are we different
A certified center for dermatology and cosmetic surgeries in a lounge like setting will have the best medical oversight. You'll get the luxury of a treatment with the medical expertise and supervision that's paramount to keeping your skin healthy. As doctors, they have a better idea of what a client needs, which will go a long way toward avoiding problems. Skin Arts provides the highest level of medically proved application of skin therapies by a team of experienced medical experts in Kathmandu. Individual needs are assessed prior to starting with the treatments to enhance your outer beauty in every sense. We choose nothing but the best, safest and most rigorously tested products available on the market, giving our clients full peace of mind. Some medical spa operators and laser centers call themselves "skin care specialists" when they actually have very little training and knowledge with no proper technology to back them. Skin Arts, offers a complete laser and cosmetic service under a roof with doctors taking care of your problems with the state-of-art technologies available to you. So if you want to get rid of unwanted skin problems, hair related problems, or any other help to regain your lost confidence, Skin Arts is the place you want to go to.